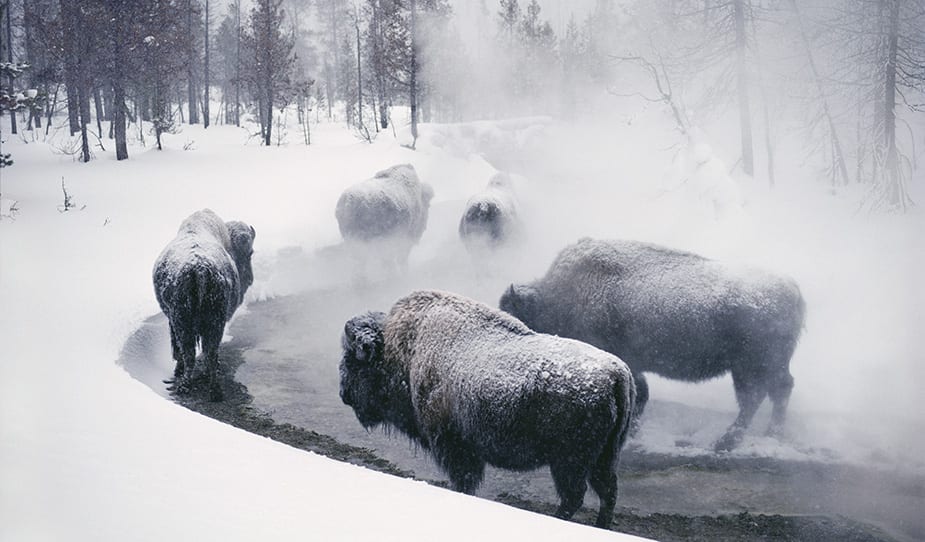 Be inspired by the winter splendor of Yellowstone National Park on this seven-day landscape and wildlife photography workshop with Jackson Hole local Henry Holdsworth and Leanne Hansen.
Yellowstone National Park offers a panoply of inspiration for wildlife and landscape photographers year-round, but Yellowstone in the quiet depths of winter is a truly unique experience. In this all-inclusive workshop, we'll photograph the range of winter light conditions from dawn till dusk—frozen sun-drenched vistas, heavy falling snow amongst the silence of the deep pine forests, the spectacular colors of the mineral springs under an overcast sky, or perhaps a lone red fox bathing in the last low light of the winter sunset.
We'll explore the outer reaches of the park transported in our private "Snowcoach"—specialized off-road vehicles designed especially for deep snow travel—from the famed Lamar Valley in the north to Yellowstone Lake and Old Faithful in the south. We'll visit Mammoth Hot Springs and the Grand Canyon of the Yellowstone, wonder over frozen waterfalls, and photograph the emerald mineral pools in Geyser Basin, steaming and brilliant against the snowy backdrop.
The instructors
Guided by Henry Holdsworth, a Jackson Hole, WY, resident, biologist, and a wildlife photographer with more than 25 years of experience, we will encounter a variety of wildlife up close and from a distance including snowy bison, elk, mule deer, bighorn sheep, moose, pronghorn, red fox, coyote, wolves, bald eagles, and other assorted birds.
Leanne Hansen will share her knowledge of low-light and long-exposure techniques ideal for capturing the winter atmosphere.
Together, Henry and Leanne make up the ideal workshop team for a winter landscape workshop in Yellowstone.
What makes this workshop unique?
Our workshop can handle a maximum of eight participants—that's almost half the size of many similar workshops—and we'll have two instructors giving you a 4:1 student-to-teacher ratio.
We'll travel in two Snowcoaches, each of which only holds five people with their gear. These smaller coaches make it easier for us to reach even more remote locations. And, our drivers will be staying with us, so we'll be up and ready to go as soon as first light appears (or even before!).
We understand your need for privacy and rest after the long, busy days this workshop requires, and therefore the price of the workshop is based on single occupancy. The price can be adjusted for double occupancy for friends or couples taking the workshop together upon request—call us for more information.
From the moment you arrive in Bozeman, everything from airport transfers to meals and activities will be included (excluding alcohol). All you have to do is sit back and enjoy challenging your photography skills against this breathtaking backdrop.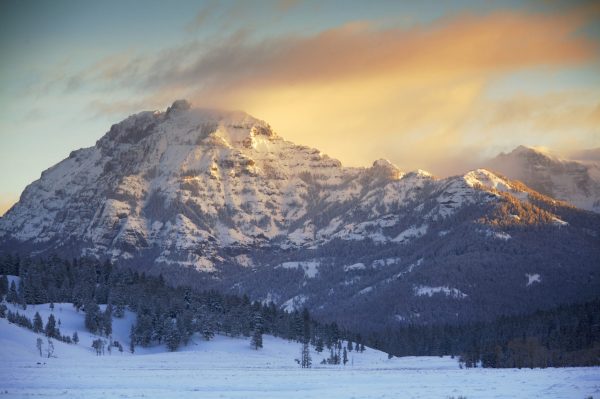 Itinerary
Jan. 26: All participants to arrive in Bozeman, MT. Overnight in local hotel. We'll get together in the evening for an informal meet-and-greet.
Jan. 27: Breakfast at the hotel. Transportation in private van to Cooke City, near the Northeast Entrance Station for Yellowstone along the Montana-Wyoming border. Early lunch on the road and stopping along the way for photo opportunities. Dinner and overnight in Cooke City, MT.
Jan. 28: Early start to travel to Lamar Valley for a full day photographing scenery and wildlife, keeping our eyes peeled for packs of wolves, coyotes, eagles, herds of elk, and bison. Dinner and overnight in Cooke City, MT.
Jan. 29: Traveling through the northern part of the park by van. Along the way, we'll stop for numerous landscape and wildlife opportunities, the highlight of which will be Mammoth Hot Springs. We'll have dinner and overnight in Gardiner, MT.
Jan. 30: Heading south to the Old Faithful Snow Lodge where we'll spend the day editing and relaxing. Dinner and overnight lodging at the Old Faithful Snow Lodge.
Jan. 31: We'll take an off-road expedition via Snowcoach to photograph Roaring Mountain and Firehole Canyon. Dinner and overnight lodging at the Old Faithful Snow Lodge.
Feb 1: Off-road expedition via Snowcoach for landscape and wildlife photography along the lower loop of the park including Geyser Basin. Dinner and overnight lodging at the Old Faithful Snow Lodge.
Feb 2: Relaxed travel to Bozeman with opportunities for more shooting along the way. We'll wrap up and have dinner in Bozeman.
Feb 3: Fly out of Bozeman.
Price: $6,650.00
The tuition fee can be broken up into 3 payment installments.
Initial payment (deposit) due at the time of registration: $2225
2nd payment due on or before 11/12/16: $2225
3rd and final payment due on or before 12/12/16: $2200
*cash or check payments are preferred
[add_to_cart item="edu-203″ quantity="user:1″ ]
Please review our Registration Terms & Conditions
Call 415-388-3569 for more information or to register.
January 26 – February 3, 2017

Who should take this workshop:
Intermediate to advanced photographers with a sense of adventure.
Pertinent details:
Maximum eight (8) students
The workshop begins and ends in Bozeman, MT
Participants are responsible for travel to and from Bozeman
All lodging, transportation from Bozeman to the workshop sites, and all meals and gratuities (excluding alcohol) included
Price based on single occupancy; double occupancy can be accommodated upon request
While not mandatory, we highly suggest travel insurance for travel workshops: www.insuremytrip.com/
Required materials:
Extreme cold weather gear
Tripod
Multiple camera batteries
Back-up camera body
Telephoto lenses
Laptop computer with Lightroom installed
Further reading:
Don't take if from us…
"I appreciated having the opportunity to do a lot of shooting—that, for me, is where the real learning took place and where everything came together. I would take any class that Leanne teaches in the future. She is a gem."
— Liz H. on Language of Light for Photographers with Leanne Hansen
---
Instructor Bios: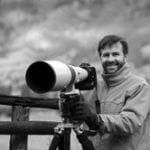 Henry Holdsworth has spent more than 25 years photographing the wildlife and landscapes of Yellowstone and Grand Teton National Parks. Educated as a biologist, he has traveled to some of the world's most remote locations to photograph threatened species such as the grizzly bear and trumpeter swan, but none is nearer to his heart than his own backyard in Northwest Wyoming. His work has appeared in leading magazines including National Geographic and Wildlife Conservation, and been displayed at the Smithsonian National Museum of Natural History and the National Museum of Wildlife Art. He has also published some 15 books. Henry has led winter photography workshops through the park for the past 12 years, and currently divides his time between photographing, teaching workshops, and running his gallery Wild by Nature in Jackson Hole.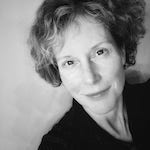 Leanne Hansen lives and works as a commercial and fine art photographer in Marin County, CA. She has participated in numerous group shows at The Image Flow, the O'Hanlon Center for the Arts, and Marin Open Studios has been published in the Bay Area Where Guestbook and Edible Marin and Wine Country, and her fine art prints are included in private and corporate collections across the country. Leanne's other popular workshops at The Image Flow include Language of Light for Photographers and Motion Blur for Expressive Images. See more of Leanne's work on her website.