Platinum/Palladium printing expert Kerik Kouklis gives us the low-down on his favorite papers for alternative process printing.
Photographers who work with the historic, hand-made or otherwise alternative printing processes know that a good print requires a good paper. Each process has different requirements for what makes a "good" paper, and those of platinum/palladium printing are among the strictest.
It's been almost 30 years since Kerik Kouklis made his first platinum/palladium print, and in that time, he says there's never been such a selection of new and improved papers coming onto the market at the same time.
Here, in his own words, Kerik reveals the best of the best from long-time industry stalwarts Hahnemühle, Legion Paper, and Arches.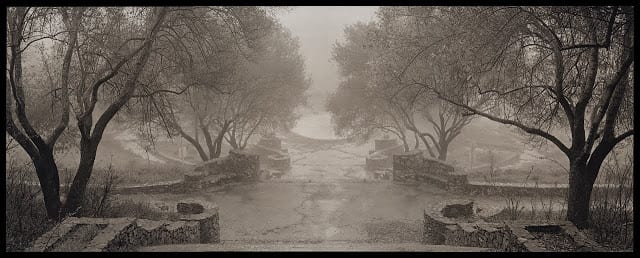 Hahnemühle Platinum Rag
Over the past nine months, I (and several other printmakers including Christina Anderson, Keith Taylor, and Mark Nelson) have been testing a brand new paper for platinum printing made by Hahnemühle called Hahnemühle Platinum Rag.
This is a great paper for platinum/palladium and the combined gum bichromate over platinum/palladium processes that I use. I understand it as also very cyanotype friendly.
It is internally sized with no animal byproducts (although the sizing itself is proprietary), 300 gsm, non-mold made, 100% cotton, natural bright white with a nice subtle texture. My guess is that it will work well with most of the common "alternative processes." It holds up very well to repeated wet cycles and makes a beautiful, rich print. Pre-shrinking is required for multi-print processes, but this is true with most papers. I found that it coated and printed even better following the pre-shrinking process. It can be printed on either side, the back has a very fine wire-side texture.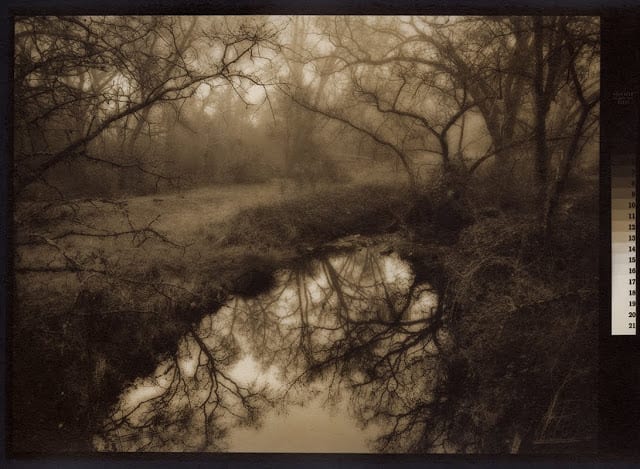 I don't currently have a functioning reflection densitometer, but I will say the DMAX is very good. It resolved 14 or 15 steps on the 21-step Stauffer step wedge. The prints were made using palladium and a very small amount of Na2 contrast agent. It prints a little bit faster than Arches Platine by roughly a quarter to a third of a stop. This will be among the most expensive papers for the process (excluding Japanese tissues), but it is also among the very best.
The paper is expected to be available for retail purchase this month.
Legion Paper Revere Platinum
Legion Paper is bringing back one of my all-time favorites, Revere Platinum. Although it used to be somewhat inconsistent, the currently retired Revere Platinum was one of the best papers I ever used when it was good.
Magnani, the 600-year-old Italian paper mill that made the paper went out of business a couple of years ago. I don't know who the new manufacturer is, but the few samples I've tried have printed extremely well. It's a little heavier at 320 gsm and has a pleasant off-white color without being too yellow. I've made both straight platinum/palladium and gum over platinum/palladium prints with this paper that are just beautiful.
This paper also required pre-shrinking for multiple layer printing. Double-shrink may be necessary; I am still testing.
I believe this paper will also be available in the next four to six weeks from Bostick & Sullivan, NY Central Art Supply, Talas, and others. My understanding is that the price of this paper will be roughly 30% less than Arches Platine.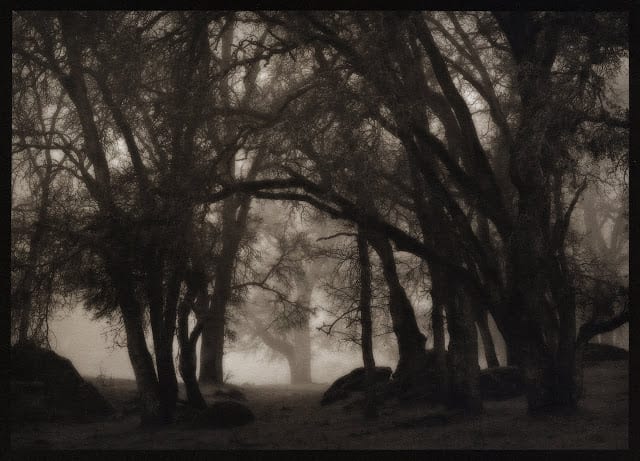 Arches Platine
In September 2015, Arches announced it had re-formulated the venerable Arches Platine. Platine was one of the first modern papers designed from the ground up for platinum/palladium printing. It has a very close cousin in Bergger COT 320, a more expensive, but very similar paper.
It now comes in two weights—310 gsm as before and a thinner 145 gsm version. I wouldn't use the thinner version unless the prints were going into a handmade book or something like that. It's a little less white than Hahnemuhle and a little whiter than Revere. The few samples I've tested of these papers have coated, printed, and cleared very well and the prints look great. I saw no evidence of bleeding that sometimes happens with this paper. If you are pining for COT 320, which often seems to be in short supply, forget it. This is Platine at its best. I believe this paper is available now from Bostick & Sullivan.
In conclusion, Kerik says all of these papers are excellent: They produce nice, rich blacks, smooth tones, and are easy to work with. While he's had the most experience with Hahnemühle Platinum Rag, he says there's room for all three in his darkroom.
The next question is how each of these papers will perform in the long run, but that's something that only time will tell. In the end, Kerik says, "It's a good time to be making hand-made prints!"
This post was adapted with permission.