Fun, photography, and Sol Food was had by all at last weekend's cyanotype workshop with Daniel Coburn.
The Image Flow hosted cyanotype guru Daniel Coburn of the University of Kansas this past weekend for a three-day workshop. The diverse group of participants from across the country was nine-strong; 14-year-old prodigy Zac Mosher was the youngest, while the oldest (we won't name names) was somewhere north of 70.
The workshop was full of surprises, the first one happening just as the participants were arriving. "What are YOU doing here!" shrieked an elated Ann George from Louisiana when her friend Tami Boone from Austin, TX walked in the door. The two women had been in a workshop before and screamed in delight when they saw each other.
Tami was the unofficial group leader in charge of asking questions, and she did her job well, asking all the right questions at all the right times, to the benefit of the entire group.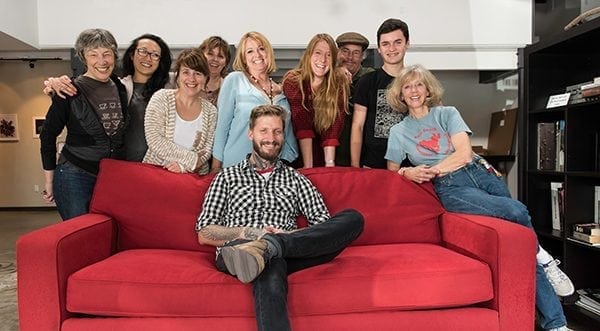 A variety of techniques was explored, but a favorite—if that tells you anything about our participants—was toning with tea and red wine. Photography is usually associated with noxious chemical odors, but this weekend, The Image Flow smelled like Christmas!
The group was briefly thrown for a loop when the metal halide exposure system used for exposing the cyanotype prints was accidentally broken, but Daniel was quick to come up with a backup plan. They gathered together the materials they had and made photograms in the warm Mill Valley sun, with some fantastic and unexpected results.
"I came in yesterday afternoon for the critique, and everybody had good work," said TIF owner Stuart Schwartz. "Daniel is one of our favorite instructors and we bring him back because we know people enjoy and benefit from his workshops, but this weekend's work was even better than we'd anticipated."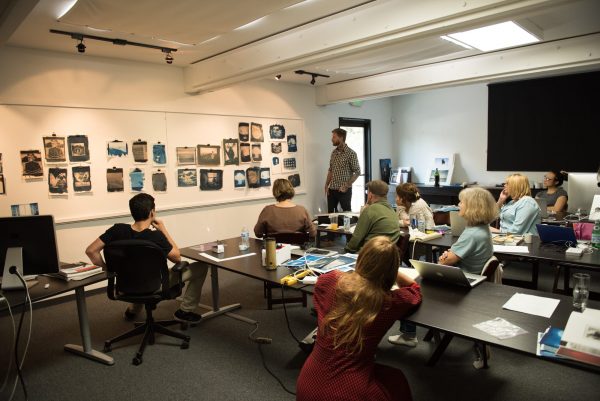 Not only did everyone thoroughly enjoy the workshop, but they also all loved eating at Sol Food next door. No need to brown-bag it at TIF—the restaurant is a long-time favorite of many workshop participants.
There are a number of other alternative process workshops on the schedule for the summer. If you missed this workshop and are interested in participating in the future, give us a call at 415.388.3569 and let us know!