Photographer Vicki Topaz launched HEAL to tell the stories of these veterans and their canine companions.
Vicki Topaz is a San Francisco-based photographer interested in culture, history and social change. She began her portrait series, HEAL! Veterans & Their Service Dogs in 2012, in which veterans discuss the challenges they face after returning home, the perils of post-traumatic stress disorder, and the healing power of the human-canine bond.
She says she was initially drawn to the subject as her own peers returned home from Vietnam, but it has also helped her to complete her own healing journey: She says hearing the veterans stories has stirred up childhood memories of her own father, a tail gunner in Europe during World War II, who she now realizes also had all the symptoms of PTSD.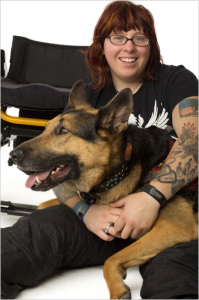 All of the participants in the project were in The Image Flow's 800-square-foot rental studio. Vicki was in the studio this week shooting her latest group of veterans.
"I have worked with Stuart at The Image Flow for many years. The awe-inspiring photo studio and gracious, competent staff provide a professional yet easygoing atmosphere—perfect for my project photographing veterans and their service dogs. It is a family affair and we always feel welcome," she said.
HEAL! Veterans & Their Service Dogs is currently being exhibited at the San Francisco Public Library until January 8. Her short film Heal! Veterans Speak About PTSD will be screened at the Bakersfield Film Festival Sunday, November 9.
Vicki is a co-founder and former board member of PhotoAlliance, a San Francisco-based nonprofit dedicated to presenting contemporary photography. Her previous work includes SILVER: A State of Mind about women and aging.
Discover more stories of veterans and their dogs, help support this project, or register to participate at www.healveterans.com.