The Image Flow's newest team member Nathan Lomas is a photographer, adjunct professor, and studio owner specializing in making antique tintypes modern again.
Nathan Lomas has been a photographer since the age of five. He's dabbled in painting and a few other pursuits, but photography is the one that stuck. "My dad put an old Ricoh camera in my hands about that age. I didn't really know what I was doing," he says. Jump ahead a couple of decades, and Nathan has definitely figured it out.
He hails from Buffalo, NY, and comes to California via a BFA at the College for Creative Studies in Detroit and a MFA in Imaging Arts from Rochester Institute of Technology in New York. Nathan is now an adjunct professor teaching in the photography and graphic design departments at the Academy of Art University in San Francisco—his subjects range from basic camera operations to Lightroom and Photoshop for graduate students—and he is also the newest digital imaging guru at The Image Flow.
But Nathan isn't all levels and curves: In his spare time, he runs his own studio specializing in 19th century wet plate photography.
Nathan uses a hybrid of traditional and contemporary methods to create unique, handcrafted images on metal plates for a range of private clients. "I like tintypes because the process is really physical, it's very much an object as opposed to a digital file," he says. "It's been a while since tintypes have been popular in use, so people really respond to it as a finite process."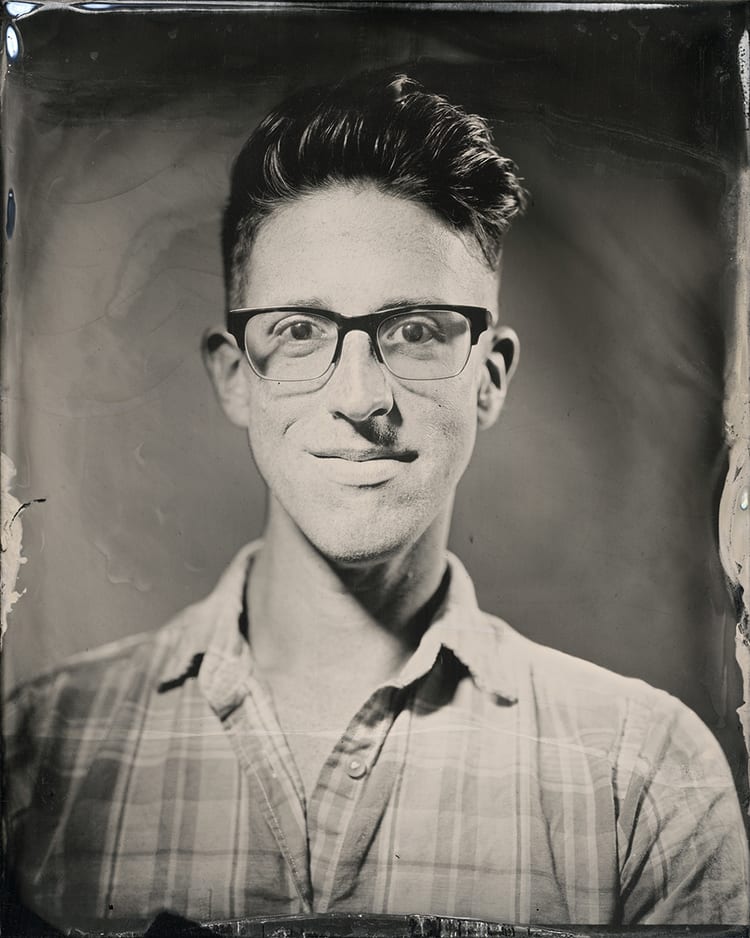 We expect Nathan to be a perfect fit for The Flow, thanks to his experience with digital restoration, film scanning, and color output, as well as the antique and alternative processes.
To help you get to know him a little better, we threw a few pointed questions his way. Here's what he had to say:
What do you love about photography?
The most powerful thing about photography for me is that it draws on reality but also has the potential to have this element of artifice. It has a really good propensity to walk a line between truth and fiction.
What is your work about?
In some of my projects I take this sci-fi or fantasy approach. In my most recent body of work, I did a series of self-portraits where I've dressed myself up as a cyborg character. I was engaging in these fantasy narratives. I was interested in the ways that machines can perceive things in ways that humans can understand.
What's your medium of choice?
Large format film—it's really physical and I have a limited amount of film to get the exposure right. It forces me to be very careful with the choices that I make compositionally and exposure-wise. I have to slow down and really consider what I'm doing; the working process becomes a lot more methodical.
What can a digital photographer learn from film?
Film is less forgiving, so it really helps to familiarize you with light situations so that you immediately know what you need to do in terms of settings, even with digital.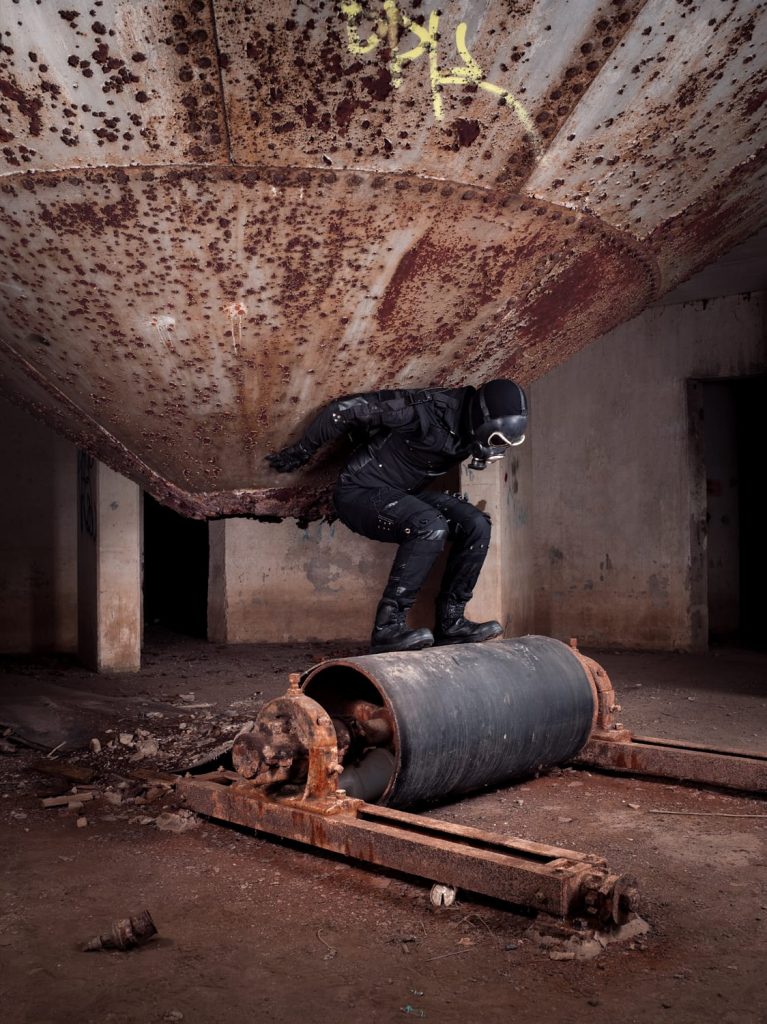 Which subjects interest you?
Unusual, surreal portraits; environmental portraits of people in the places where they work or their homes; and derelict buildings—growing up in the rust belt, from Detroit, Cleveland, over to Buffalo, has definitely influenced my aesthetics a lot, these grungy textures I'm really drawn to.
What makes a good photograph?
For me a good photograph is one with a good sense of color; light and dark; positive and negative space; and a distinct foreground and background.
Photoshop or Lightroom?
I'm familiar with both. I use Lightroom for cataloging, but I like to do deep retouching in Photoshop.
What do you enjoy about teaching?
I really like to talk about the artists that I like, and even though photography has become more ubiquitous, it doesn't mean that everyone has visual literacy. I like to expose my students to a huge variety of work and artists, as well as the ideas behind the images.
What photographers inspire you?
Robert and Shana ParkeHarrison. Their work spans quite a bit of time; the old ones are all silver prints. They've moved on to incorporate digital, but they always work with these surreal narratives, one character pitted against the world.
Nathan will be at The Flow several days per week working on image retouching and restoration, film scanning, and printing, as well as teaching workshops and working one-on-one with clients. Stop by and see him today!