The participants in our most recent youth photography workshop have surprised and impressed us with how fast they caught on to using their cameras' manual operations, and what they could do with their cameras with just a little help!
The Image Flow has been buzzing with kids this summer, and we couldn't be more impressed or proud of the work they've turned in! Our most recent
workshop,
OMG! Summer Photography for Youth, saw our very own Constance Chu lead a group of extremely talented kids ages 11 – 14 around Mill Valley while they looked for light, shadows, and shapes while learning how to maximize their cameras' manual settings. The first shooting challenge took place outside
Tam Bikes
on Miller Ave. where they stood waiting for bicyclists and cars to pass by. The task was to learn how to use image panning and setting the up the camera to accommodate the long exposure in the bright sunlight.
On another day, they went to
Once Around,
a local arts and crafts store, where they took close-up and macro images of yarn, pastels, and more, searching for interesting patterns of color and experimenting with shallow depth of field. One of the most popular exercises during the four-day class was light drawing using the flashlight on the kids' smartphones, an experiment Constance actually lifted from her first digital photography workshop. She says it's a great exercise to stimulate creativity and to help new photographers understand what can be done with a long exposure.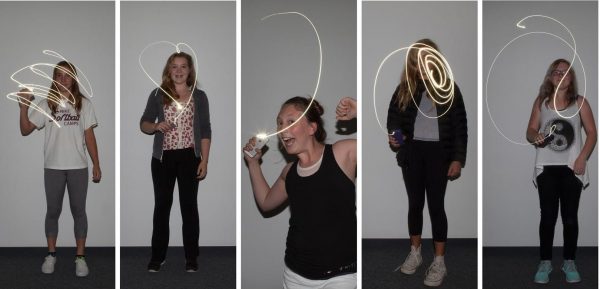 The class explored image post-processing using
Lightroom,
and each student got to choose an image to print and take home—some of these images are included below. All in all, a rousing success! And PS—Just because summer is over doesn't mean our great kids workshops are! The second session of
Digital Photography for Kids
kicks off Tuesday, September 29, and Constance will teach
Send Your Kid to the Rock: Intermediate Photography for Youth
starting Wednesday, October 21. This five-session workshop will include a Sunday shooting expedition to Alcatraz, as well as after-school image editing instruction.