This workshop will introduce students to the art of bookbinding. From sewing text blocks to creating hardbound covers, this workshop will include the entire process of making a handmade book. Over the course of this three session workshop, students will practice different binding techniques and walk away with several handmade books, including a blank 6×9" hardcover book.
This rewarding craft can be combined with other art forms to create artist books of photography, drawings, or prints. Blank books are perfect for journals, sketchbooks, and recipe books. All materials will be provided, including the basic bookbinding tools that students will take home for future projects. Participants have the option of bringing in decorative papers, prints, or photographs that they may like to incorporate into their books.
Course Schedule
Wednesday, March 1, 6–8:30PM: Introduction to bookbinding: this class will introduce the bookbinding tools and various applications of the craft. To begin learning technique, we will create a stab bound book and a single-signature book.
Wednesday, March 8, 6–8:30PM: Slow stitch: this class will focus on the meditative act of sewing together a block of pages. We will experiment with different stitch variations and begin preparing book covers.
Wednesday, March 15, 6–8:30PM: Bringing it all together: in this class, students will encase our sewn pages in a hard cover and learn variations for book covers and spine treatment.
Workshop presented by The Image Flow Photography Center, providing photography classes, custom printing services, and fine art reproduction.
Instructor Bio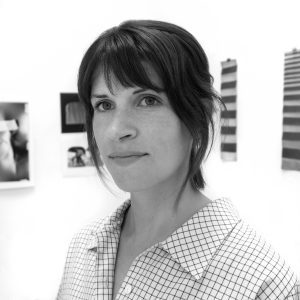 Arielle Rebek (she/her) is an Oakland-based artist and educator whose work employs photography and installation. Rebek engages in deep material investigation and experimental photographic processes as a means to explore magnitudes of time, photographic archives, and relationships within the natural environment. Arielle is originally from the Chicago area and earned her BA in Studio Art from Carleton College. She has an MFA in Art Studio from the University of California – Davis, where she was awarded the Margrit Mondavi Fellowship and Mary Lou Osborn Award. Rebek has exhibited internationally, notably the Manetti Shrem Museum of Art, the Institute of Contemporary Arts-Singapore, Chung 24 Gallery and Carleton College. She has participated in artist residencies at Google, LASALLE Topical Lab, The Image Flow, Kala Art Institute, and Root Division. Currently, Arielle is a lecturer in photography at University of California – Berkeley and California State University Sacramento.