Tintype workshop instructor Nathan Lomas is fascinated by the ambiguities and tones that tintype photography creates and its contrast to today's digital photography. Tintype pictures are a direct-positive photographic process (also referred to as wet plate collodion) that was prevalent from the 1850s to the 1880s. The end product is a one-of-a-kind image that will last a lifetime!
During the introduction evening, Nathan will talk about the history of tintype photography and show some examples of historic and contemporary tintypes. You will learn how the tintype process works and what to expect during the two days of intensive shooting.
This photography workshop will be divided into two shooting sessions, during which students will sign up for a 2-hour dedicated time slot to craft their images each day.
The first session will focus on creating still life images to become familiar with the antique process. Students are invited to bring objects and materials that they would like to use to create a personalized still life scene. In the second session, students will have the chance to bring a single model or couple (for Covid-19 safety) to create stunning tintype portraits in our studio.
Students will leave the tintype workshop with an understanding of the tintype process, and 12 unique 4×5″ tintypes!
Class Schedule
Friday, 5–6PM: Introduction via Zoom (from home)
Saturday, 9AM–6:30PM: Still-life session shooting tintypes (at The Image Flow)
Each student signs up for a dedicated 2-hour time slot
Sunday, 9AM–6:30PM: Portrait session shooting tintypes (at The Image Flow)
Each student signs up for a dedicated 2-hour time slot
*Per Public Health Orders in effect for Marin County, masks are strongly recommended, but not required.
People may choose to mask at any time.
We support those who wish to continue to mask indoors, including those who are immunocompromised or otherwise concerned.
About Zoom
Zoom is video conferencing software that allows us to video chat and share our screens all using our computer's built-in video camera and microphone. Setting up a Zoom account is easy and free. Just got to the Zoom website to create a username and download the software onto your computer (not your phone). Never used Zoom? Check out their support page for How to Join a Zoom Meeting.
Workshop presented by The Image Flow Photography Center, providing photography classes, custom printing services, and fine art reproduction.
Instructor Bio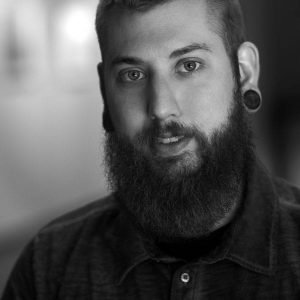 Nathan Lomas hails from Buffalo, NY. He developed his passion for photography at the tender age of five when his father gave him a Ricoh camera. He has a BFA from the College of Creative Studies in Detroit and an MFA in Imaging Arts from the Rochester Institute of Technology in New York. He is an adjunct professor at the Academy of Art in San Francisco, owns his own photo studio in Alameda where he specializes in 19th-century tintype photography, and at The Image Flow, works with digital restoration, film scanning, and printing, as well as teaching workshops and working one-on-one with clients.