Photographer Penny Wolin will present her new book, Descendants of Light: American Photographers of Jewish Ancestry, in a lecture and book signing at The Image Flow.
Wednesday, April 20, 2016 at 7PM. Free.
Award-winning photographer and author Penny Wolin traveled across the country for more than six years for her most recent book Descendants of Light: American Photographers of Jewish Ancestry. Penny photographed and interviewed more than 70 of the most important Jewish photographers in history.
Some of the most iconic photographs of the 20th century were made by Jewish photographers: Philippe Halsman's portrait of Albert Einstein, Herb Ritts's portrait of Elizabeth Taylor, and Annie Liebovitz's photograph of the final embrace between Yoko Ono and John Lennon.
Penny's book is an illuminating work of art and scholarship, which includes rare ancestral photographs from each artist, never-before-seen images from their bodies of work, and her own original portrait of each photographer.
The book has been called "a major contribution to our understanding of American Jewish culture," and will "surely contribute new insight to the history of photography." Learn more in the Kickstarter video below, made in 2012 to fund production costs before publication.

Penny will present her work and sign books at The Image Flow Wednesday, April 20. During this free event, Penny will regale guests with the stories behind the images and the fascinating tale of how this important collection of work came together. Doors open at 6:30PM; the lecture will start at 7PM.
The book is available to order online and copies will be on sale at the event.
"If you have wondered why the most notable photographers in 20th century America were Jewish, start looking at this book now. With passion and perseverance, photographer Penny Wolin shines a bright light upon the answers."
— John Loengard, photographer and former picture editor at LIFE magazine
---
Penny Wolin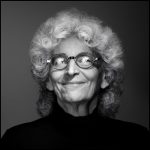 hails from Sebastopol, CA. Her first professional photography assignment was to cover Cheyenne Frontier Days, the world's largest rodeo, with her viewfinder. She is a graduate of Art Center College of Design, a directing fellow of the American Film Institute, and attended the UCLA graduate program in visual anthropology.
She has received two grants through the National Endowment for the Humanities, and one through the National Endowment for the Arts. Her project detailing the changing culture of the cowboy in the midst of a full-scale energy development boom is held in the permanent collection of the Smithsonian's National Museum of American History in Washington, D.C., and she has worked extensively for Conde Nast and Time-Warner magazines and top advertising agencies.