Canon has named Stephen Johnson one of their Explorers of Light and sponsors speaking engagements with him around the country! Thanks to Canon, Stephen will be talking at The Image Flow about his recent project on the National Parks With a New Eye: Photography Changed Forever.
Thursday, March 2, 2017, from 7–8PM
Free
Stephen Johnson walks us through his travels to over 50 national parks and the ideas, tools, inspiration, and means of accomplishing his massive five-year project, With a New Eye: Photography Forever Changed. The bleeding edge of technology has left its marks on Stephen, and left us all with new icons in the history of landscape. His subtle use of color and unbelievable detail wrapped in his light-filled pastel images reveal a fundamentally new way of seeing and redefining "straight" photography in an age of endless manipulation. This lecture gives us all a rare chance to see just how good photography can be, and how far beyond film digital photography has already gone.
Stephen's photographs, mainly of wild and endangered landscapes, have been widely published and collected internationally and are part of the permanent collections of the Oakland Museum, the Getty, the National Park Service, and the Packard Foundation, among others. His work has been featured in Life and dozens of other magazines and in television specials including features on ABC News/Discovery Channel, PBS, and many local stations.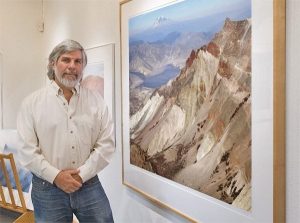 Stephen also works to devise and refine new tools for digital photography and teaching other artists to use these tools to express their ideas. He was recognized by Apple Computer in 1997 with a ColorSync Profiling Excellence Award. In 1999, Folio Magazine declared the publication of Johnson's digital photographs in Life magazine to be one of the Top 15 Critical Events in magazine publishing in the twentieth century. He has worked closely with Adobe and many other industry leaders on expanding and refining the tools we use as photographers. He was named an 'Explorer of Light' by Canon in 2006, and lectures at leading industry seminars and universities as well as mentoring a select group of aspiring artists.
Stephen will also be teaching a workshop through The Image Flow at Pt. Reyes this spring—details forthcoming! Learn more about Stephen on his website.
Don't miss this FREE lecture at The Image Flow, sponsored by Canon Explorers of Light!