Behind the Scenes for National Geographic in Switzerland
April 27, 2016, from 7–8PM
Free
How do you land in a foreign country and capture compelling images while planning an entire photo shoot on your own—in just ten days?
Come hear National Geographic photographer Catherine Karnow talk about her creative process while she regales us with stunning images and exciting anecdotes from her recent assignment in Switzerland to shoot a major ad campaign for National Geographic.
Catherine will tell us how it's done: the pitfalls, the mishaps, the anxiety, the joy, and her ultimate success. This is sure to be an entertaining and lively evening!
---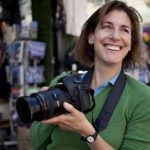 Lecturer Bio: Born and raised in Hong Kong as the daughter of an American journalist, San Francisco-based National Geographic photographer Catherine Karnow has covered Australian Aborigines; Bombay film stars; the victims of Agent Orange in Vietnam; Russian "Old Believers" in Alaska; Greenwich, Connecticut high society; and an Albanian farm family. In 1994, she was the only non-Vietnamese photo-journalist to accompany General Giap on his historic first return to the forest encampment in the northern Vietnam highlands from which he plotted the battle of Dien Bien Phu. Her retrospective, Vietnam: 25 years Documenting a Changing Country opened at the Art Vietnam gallery in Hanoi in April 2015. In May, Catherine was profiled in a PBS documentary about art in Vietnam.
Her work also appears in Smithsonian, French & German GEO, and other international publications.
Catherine's passion for photography carries into her love for teaching. She currently teaches National Geographic weekend photography workshops in San Francisco, as well as private workshops and teaching seminars all over the world for private, corporate, and editorial clients, as well as her own annual signature photo workshops in Umbria, Italy, in May and Vietnam in October. Her workshop at The Image Flow San Francisco Sightseeing will be August 5 – 7.