We are excited to be partnering with Art Reactor this summer and to be bringing more kids digital art classes to The Image Flow!
Art Reactor is a digital art school for middle and high school students, created by Jennifer Fry and Josh Cardenas. They teach students how to be artists, not just computer users. By learning the basic principles of art and how to create with digital tools, students can produce amazing, original work! Incredible things like virtual 3D sculpture, vector art, interactive virtual worlds, projection mapping, VJing, and more. Jennifer and Josh strive to have their students become independent artists, developing the technical skill they need to express their creative vision.
Art Reactor will be offering week long digital art classes from June 10 – August 12 for middle and high school age kids!
Last year, Goli Mohammadi of Make Magazine  interviewed Josh. Here is an excerpt:
What inspired you to start Art Reactor?
Art Reactor began about a year ago very simply: we, owners Josh Cardenas and Jennifer Fry, are passionate about digital art and felt that we could bring our professional expertise and love of teaching together to create a business that would fill an unmet need in the community. We believe that arts education is a powerful force to foster creative problem-solving, critical thinking, keen observation, innovation, and visual communication skills. While we are artists and believe in the arts as a foundation of culture, we also believe that providing a project-based arts education improves a student's ability to learn in all aspects of his or her life.
Further, we see digital art as a medium for self-expression, as we do a pencil, paintbrush, clay, or any other art tool. We also see digital art as an important form of literacy in the 21st century. Current middle and high school students have to prepare for jobs that may not even exist right now, and one thing's for certain: they will need to be excellent at visual communication through digital media if they want to be successful.
The classes offered at Art Reactor help students develop stronger visual communication skills, as well as the technical knowledge necessary to realize their visual ideas. In general, schools don't have the resources to provide the technology and level of instruction we offer at our studio, and yet these things are incredibly valuable to our children's future.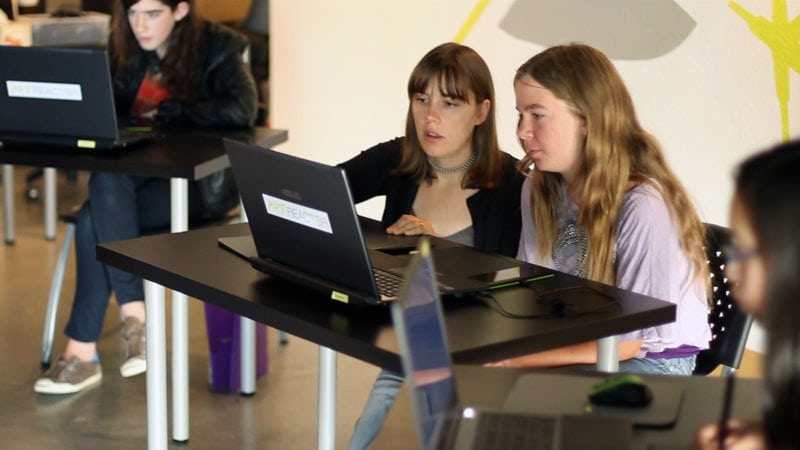 Describe the types of students you've gotten so far and who you hope to target (i.e. age range, background, interest).
Our program is designed for middle and high school students, ages 11 and up. We've found that students younger than age 11 are generally not developmentally ready to apply complex technical skills with art creation, which is why we target our classes to teens. We look for kids who already love art and are comfortable with technology, and who want to learn to use digital tools to create awesome artwork. We've been fortunate in that these are exactly the types of students we've attracted and retained since our program began.
We try to clearly describe our program as absolutely arts-focused, so if a student isn't interested in art, then Art Reactor classes are probably not for him or her. Students also need to be motivated and willing to try new things. Sometimes we get kids who come in wanting to make a video game, for instance, but don't understand the level of technical and artistic skill, nor the amount of work involved with developing something as complex as a video game. We start out all of students with the fundamentals: drawing, painting, color, composition, shape, line, etc. If a student is only focused on one particular project or technique, that typically isn't a good fit with our program.
The average age of student we've had has been about 13 – 14, but we've had kids as young as 9 and as old as 19. We also offer adult classes that tend to have a more pragmatic focus, such as Graphic Design For Your Business.
Tell us about yourself and your cofounder Jennifer Fry. What are your backgrounds and areas of specialty?
I have a bachelor's degree in sculpture from Sonoma State University, and have worked professionally as a visual effects artist for movies and commercials. I'm widely skilled in studio art, digital art, and hands-on construction, and my personal artistic focus is on kinetic, audio-visual sculptural installations.
Jennifer is a credentialed art teacher with a bachelor's degree in graphic design from San Diego State University. In addition to working as a professional web and graphic designer, she has taught visual and digital art at public and private schools in Marin County for the past seven years. Her artistic explorations include ambient digital pieces that incorporate photography, motion graphics, video, and sound.
Josh and Jennifer are enthusiastic about digital art and  helping people learn how to use the computer to express their creativity. Their passion for the medium is infectious and kids love being in their classes—as do adults! Jennifer and Josh are offering two adult classes this summer as well: Digital Art Basics and Graphic Design for Your Small Business
They answered a couple of our questions: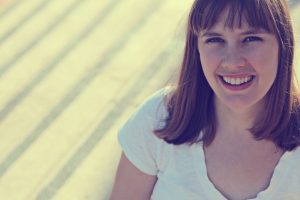 hat artists inspire you?
Jennifer: I love it when artists use unique processes to create their work – most recently I discovered Sienna Morris of Portland, Oregon, who etches her images into glass using numbers and symbols as her marks. Her work is incredibly meaningful, technically masterful and visually arresting. Those are the qualities of a great artist, in my opinion. Because of my background in graphic design, I also really love stark, graphic style artwork such as The Great Wave Off Kanagawa by Hokusai. And finally, I am inspired by artists who's work truly makes you think, such as the surreal work of Rene Magritte.
Josh: Doug Chaing, Ryan Church, and Feng Zhu. These are all talented concept artists that work in a variety of media. I think concept art or visual development is one of my favorite art forms because it's the bringing to life of one's imagination when reading a story. I strive to reach this level of skill and creativity in my own work.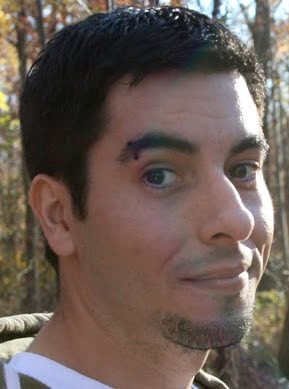 Have you seen any movies lately that you found particularly interesting?
Jennifer: Most recently, I saw Life of Pi, which was both profound and aesthetically beautiful. The way the imagery portrayed Pi's surreal experience of being lost at sea—wow. As a digital artist, I know just how difficult it is to create such stunning visuals, and the team that worked on that movie has my utmost respect. Another favorite of mine, from a perspective of impressive artistry and storytelling is just about anything Pixar creates. Though I didn't think the story of Brave was as unique as others they've created, I was in love with Merida's hair; it was a character in itself! And again, the technical and artistic team that puts together a movie like Brave are absolutely the cream of the crop in terms of digital artists.
Josh: I got the amazing opportunity to work on Neil Blomkamp's upcoming sci-fi movie, Elysium. I worked with some incredibly talented artists and all I can say is the imagery in that movie took my breath away, and I'm looking forward to seeing it in the theater.
What projects are you working on now?
Jennifer: Running Art Reactor keeps me pretty busy, as does my other job of freelance graphic and website design. I am also a writer, I published my first young adult novel, A Part To Play,  last August, and I'm working on a second one. As part of my writing practice, I run a critique group here in Marin.
Josh: I'm working on an animatronic sculpture for a friend's movie concept, designing a themed installation for the Mill Valley library fundraiser, and working with some collaborators to get a Maker Space started here in Marin.