From southern Mexico to rural California, Matt Black documents the social issues of modern farming and the effects of one of the most severe droughts in recorded history.
Matt Black has been photographing the small towns and expansive farmlands of California's Central Valley for nearly 20 years. A native of that vast agricultural area that runs nearly the entire length of the state, Matt says he began to notice a shift in the people working the fields around his hometown.
Many of California's agricultural workers now come from remote villages in Mexico. The Mixtec community of San Miguel Cuevas located in the isolated mountains of Oaxaca has lost almost 80% of its population to migration. When Matt visited the village, it was little more than a ghost town. "Chances are high that the food you've eaten recently was picked by a Mixtec immigrant," he told The New Yorker.
The decline of traditional American farming life and the rise of its modern replacement in rural California and southern Mexico has become the primary focus of his photography—small family farms exist now only on the fringes of agriculture he says.
"Large-scale agriculture has displaced traditional farm life in the United States and around the world," says Matt. "My photography is an ongoing dialogue with the social implications of that displacement."
An exploration of the the changing human relationship to land, food, farming, and community lies at the core of his twin documentary projects The People of Clouds and The Kingdom of Dust. His most recent project, Rural California's Year of Dust, in collaboration with The New Yorker and Mother Jones, documents the impact the deepest drought in California's recorded history has had on Central Valley agriculture.
Last week, The New Yorker unveiled a film produced on the subject with photographs by Matt; the video was shot by Ed Kashi with editing by Sky Dylan-Robbins. Watch the film below.
"I saw an article about Matt on the Pro Photo Daily website and was intrigued by his work," says The Image Flow owner Stuart Schwartz. "His subject matter is so provocative, and at the same time, it's shocking to see how some people are surviving in the Central Valley."
Matt says he hopes that viewers of his latest project will come away with an increased understanding of the situation in the Central Valley. But, he says, he's a reporter not an activist. "My stories highlight the lives of regular people caught up in forces larger than themselves."
His grainy, high-contrast images rarely include formal portraits. Rather, they are of sheep loping across a desolate landscape at dawn, workers manipulating rows of crops under a scorching sun, a dust storm tearing the roof right off a house. Each image offers an intimate sense of movement and moment; the viewer is drawn in, as if in the blink of an eye, he or she is climbing that ladder in a field of fruit trees or riding to work on an old school bus full of laborers.
"There is a gritty approach to his imagery that is refreshing to me, given how much of what you see these days is so Photoshop-perfect," says Stuart. "What immediately struck me was his obvious ability to get himself in the door and create a rapport with people." Indeed, in viewing Matt's work, one wants to reach out a sympathetic hand to the young girl sitting in the dirt behind her concrete-slab house as she tries to seek some relief from the heat.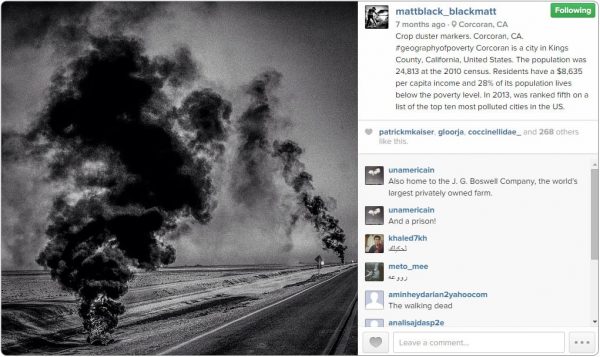 Matt's work is shot on both film and digital, and he's recently embraced Instagram. "I'm dealing with the same issues but adapted to a new medium and form of communication," he says. With his Instagram project, he says he is trying to tap in to the injustice and inequity of the situation in the Central Valley in a more explicit way. The social medium allows him to take a picture of a community and place it directly on a map.
"Right now, I'm concentrating on rural California, but I plan to expand to other areas, and eventually I'd like to have other photographers contribute, too," he said in this Time.com article.
Matt's work has recently been on display at the Anastasia Photo gallery in New York and the Porterville College Art Gallery in California. He will also present and discuss Rural California's Year of Dust, a project supported by the Documentary Project Fund, in a special lecture at The Image Flow on October 30.
"Matt has a world of information to share with the photographic community as a whole," Stuart says. "His work is anything but tame—from the composition, to the gritty look, to his thought-provoking subject matter. These are images that need to be seen by the photography community and the community as a whole."
In the video below produced by the nonprofit Photowings earlier ths year, Matt discusses California's water crisis.
Matt Black will present The Dry Land: A Benefit Lecture for the California Drought Relief Fund at The Image Flow Thursday, September 10 at 7PM. $10 General Admission. Click for more information or buy tickets here.