Mixed media artist Michael Cutlip has an innate interest in trying new things and finding what works for him—it's evident in the unexpected juxtapositions of his multimedia collage pieces and in the story behind how he became an artist.
Michael was studying Business at Cal State Hayward when an art professor changed his mind. He was enrolled in a drawing class for an art credit, and his professor saw something in his work and encouraged him to continue. Michael was intrigued and curious about this "art thing" and enrolled in another class. From then on, he was hooked. He switched to a fine arts degree and never looked back.
His work has focused on painting and using mixed media ever since. Michael says he is inspired by the naïve gestures and honesty of children's art, as well as the layering and weathered aspects of paint and postings on old buildings. He uses house paint, Xerox transfers, a printing press, wallpaper, book pages, and many other things not usually found at an art supply store.
Michael's work is has been shown at the Seager Gray Gallery in Mill Valley, the ZIA Gallery in Chicago, and Aaart Foundation in Kitzbühel, Austria, among others. His space is often filled with images of vintage carton characters, dots, turquoise, red, and whimsy, which delight and engage the viewer in a light and playful way.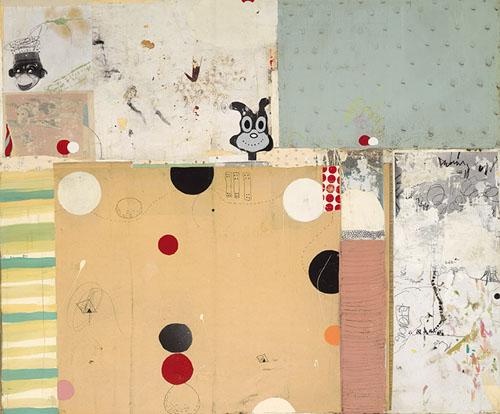 "In life I think I tend to be somewhat serious, but when I'm in the studio, it's like playing. I'm having fun and putting things together. Then I find something that works and it makes me smile," said Michael.
Michael teaches workshops both at his studio and at The Image Flow, and his teaching style is as playful as his art. "Michael has so many fresh and young ideas. He is inspiring and I loved working with him. I hope he never grows up!" said one of his many dedicated students.
His next one-day mixed media workshop at The Image Flow is on August 15. Come spend a day learning and playing with Michael—sign up today!