Video Tutorial By Nathan Lomas. Watch our short video tutorial on how to blur a background in Photoshop.
Tired of confusing online photoshop tutorials? Ever say to yourself "I want to learn photoshop from the beginning"? Then you'll feel right at home in our Adobe Photoshop Workshop.
Creative photography begins in the camera, but good photo correction seals the deal. In this Adobe Photoshop class, you'll learn adobe photoshop basics like photo editing and photo retouching on our provided images that you can later bring to your own photography.
Whether you're looking for a photoshop class for beginners or a photoshop refresher course, this workshop picks up where Lightroom leaves off—focusing on the fundamentals needed to address more complex situations within digital images. We'll cover using adjustment layers, selections, masking, retouching, and basic compositing so you can make your images truly exceptional.
Getting professional-looking images begins with the right photography training and the right tools—this photoshop course will get you the training you need to enhance your photos and improve your photography skills!

Photoshop Class Schedule
Class 1: Workflow—moving from Lightroom to Photoshop, Color Spaces, Adjustment Layers Intro
Class 2: Basic Masking (using Brush tool primarily)
Class 3: Retouching Intro (non-destructive workflow for in-depth editing)
Class 4: Selections (including Color Range, etc.)
Class 5: Resolution, Basic Compositing
Class 6: Channels, Luminance Masks, Final Master File workflow

Don't know Lightroom? Sign up for our Adobe Lightroom Classic workshop to learn RAW image processing before moving on to Photoshop.
Looking for a beginner's photography class? Sign up for our Photography Basics digital photography course with photography assignments and beginning photo editing in Lightroom Classic.

Workshop presented by The Image Flow Photography Center, providing photography classes, custom printing services, and fine art reproductions.
Instructor Bio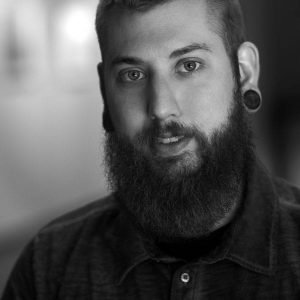 Nathan Lomas hails from Buffalo, NY. He developed his passion for photography at the tender age of five when his father gave him a Ricoh camera. He has a BFA from the College of Creative Studies in Detroit and an MFA in Imaging Arts from the Rochester Institute of Technology in New York. He is an adjunct professor at the Academy of Art in San Francisco, owns his own photo studio in Alameda where he specializes in 19th-century tintype photography, and at The Image Flow, works with digital restoration, film scanning, and printing, as well as teaching workshops and working one-on-one with clients.