The Image Flow headed down to Big Sur for an all-inclusive weekend photography workshop shooting nude models and the rugged California coast, not to mention a tour of Ansel Adams' private darkroom and a behind-the-scenes look at the Edward Weston estate. Stuart Schwartz offers a few words.
This is the first time we've held Big Sur Landscapes & Nudes, and you never know how a
new workshop
is going to go, so there's always a bit of apprehension. But as soon as we got to the
Center for Photographic Art
in Carmel, CA, on Thursday, for a presentation of work by instructors
Michelle Magdalena
and
Ken Parker
and a motivational talk with Artistic Director Brian Taylor, it was pretty obvious it would a special weekend. The workshop participants arrived at the ranch—a private space that was our home base for the weekend—early on Friday morning and breakfast was ready and waiting. (All of our meals that weekend were either pre-arranged or catered by
RSVP Catering.
) Michelle took the lead, as the subject of the day was shooting nudes. She offered a lighting demonstration on defused light as well as reflective light and discussed composition, but before long shutters were clicking.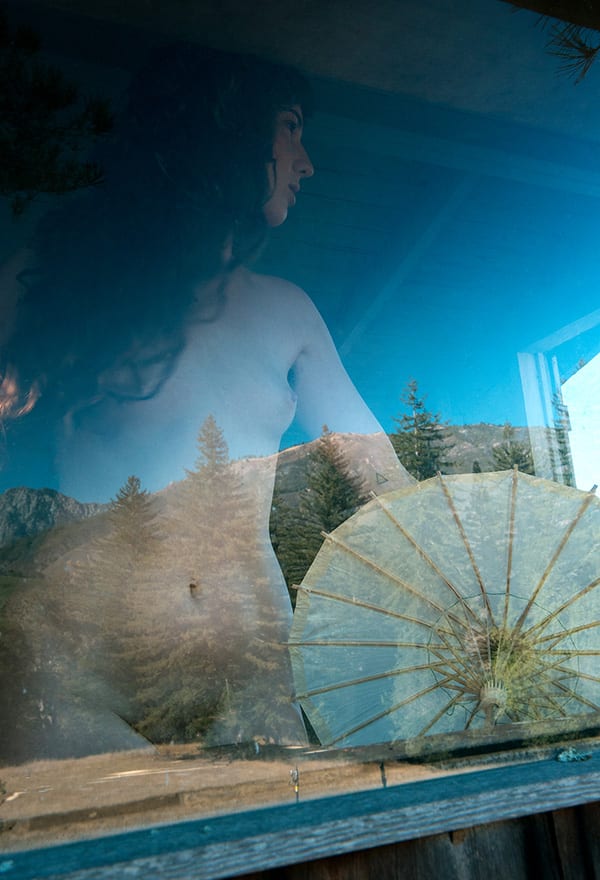 We had a few different setups and a solid four hours of shooting before we headed back to the ranch for lunch. The photography didn't stop though; the models kept working right on through with the participants setting up shots all over the ranch.
That afternoon, we had access to a stunning quarter-mile-long private beach to continue shooting—we were the only ones there! We stayed on the beach working until after sunset. Exhausted, we returned to the ranch for dinner and conversation.
Ken took the lead on Saturday morning, reserved for shooting sunrise landscapes on the beach, but California being what it is, heavy fog forced a change of plans, no sun. The images that emerged are moody and surreal, and incredibly unique. It was exciting to see how the group attacked any subject—planned or unplanned—with enthusiasm.
We then headed over to Garapatta State Park (which is one of my favorite sections of coastline) for more shooting and had lunch at
Rocky Point.
After lunch we went to the Edward Weston estate. Kim Weston gave us a two-hour tour of the property, including an amazing viewing of four generations of Weston photography. He was very gracious, sharing a number of personal anecdotes and fielding all of our questions.
Sunday morning we had the option of sleeping in a little (we needed it after shooting until well after sunset) but we still had the huge job of editing ahead of us. We met at CPA and Ken, Michelle, and I spent two and a half hours working one on one with each participant on editing, composition, and retouching. Then lunch was brought in and we launched into a round-robin critique of each participant's work.
The final critique is always one of my favorite parts of any workshop. Even though the group had shot side by side all weekend, the resulting work was fantastically different.
The shooting was over, but the inspiration wasn't—at 3PM we arrived at Ansel Adams's home. This visit was made possible only because Ken is a friend of Michael Adams, Ansel's son. We got an incredible backstage tour, including a close-up look at Ansel's 8 x 10 enlarger, with which I got my photo taken—one that I daresay doesn't need to be shared in this blog!
The fact is, it was an awe-inspiring weekend, with fantastic facilities, thought-provoking instruction from Michelle and Ken, and enough shooting to keep us all editing for several days.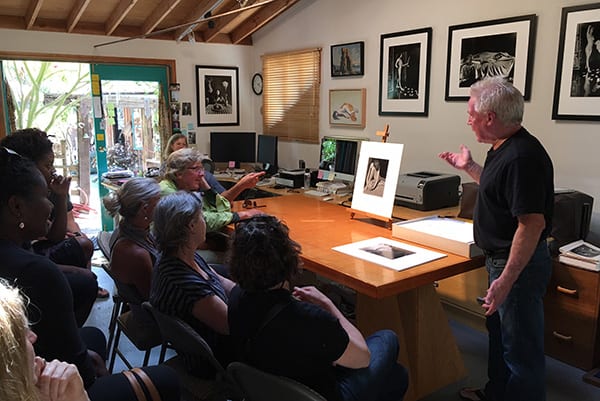 Lest I drone on, a few words from some of our participants…
Barbara Hazen summarized the weekend beautifully: "The most important thing that I learned was that I was not alone. Many other photographers, veterans or not, have experienced the same pitfalls and struggles that I am struggling with now. As we learn from our failures we create something stimulating and new. That is not only refreshing—but also confirms that photography is a growing and vibrant art. I am thrilled to be a participant!"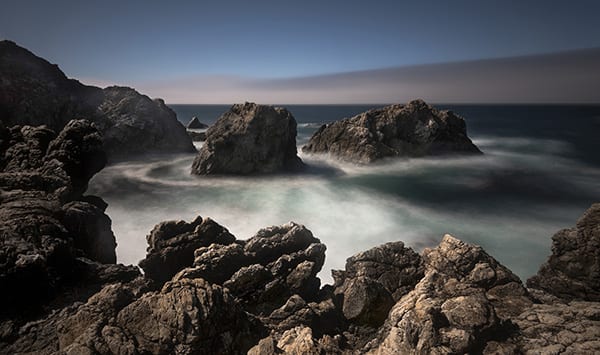 "The entire event was fantastic; from the inspiring photographs of Ken and Michelle, to the shooting experiences, to the critiques and the friendship of all involved, not to mention the total professionalism and spirit of our models Ryan and Sabrina, and key grip Taylor. Thanks to ALL, this is an experience I will treasure for a long time," wrote John De Groot.
"When I got the email listing the workshop, I thought: Nudes… Big Sur… Beach… Carmel? Is there anything more potentially exquisite in juxtaposition…? And I was not disappointed… to say the least. … Thank you Michelle and Ken for sharing your secret spots, your models, and your expertise as photographers in such a generous and informative way… I learned SO much!" wrote Katy Parks Wilson.
It's always a privilege to get to play the role of inspirator, but I assure you, I get at least as much inspiration from the students as they do from me. Looking forward to the next one!
— Stuart Schwartz
A workshop makes a fantastic gift, for yourself, or someone else—and we've got plenty on offer, explore our workshop calendar and sign up!