Lightroom expert and in-house retouching specialist Taralynn Lawton took on a monumental project to reproduce and retouch some 70 historic images made by Mike Roberts, America's Postcard King.
In Wish You Were Here, author Bob Roberts details the life and work of his father Mike Roberts, which spanned more than 50 years. A self-taught pioneer in the development of color photography and printing, Mike was a 20th-century icon known as America's Postcard King.
He left home at 16 with $25 pinned to his underwear and a box camera and headed west on his Harley. In San Bernardino, he got work in a photo studio and was soon shooting photographs of dignitaries like Albert Einstein and Amelia Earhart—he has one of the few images ever taken of Amelia Earhart showing her teeth.
He shot the 1939 World's Fair in San Francisco for such venerable publications as The Saturday Evening Post, Fortune, and Life, but what really got his career going was an assignment to shoot for Standard Oil. "The company wanted to promote their gas after the war, so they sent photographers out to take color pictures," says Bob. "When you filled up your tank with gas you got one picture; the idea was you'd fill up your album and it would motivate you to travel to these places. My father sold about 18 photographs, but had a whole bunch left over, so he decided to make postcards."
From the famous "Alcatraz, wish you were here" postcard to Hawaiian sunsets, the Texas Alamo, and even the first Pan Am Clipper flights to China, Mike's work traveled the globe bringing colorful greetings and a sense of nostalgia to its recipients.

Mike had started to collect material for his memoir when he passed away in 1989, but it was more than two decades later before Bob was able to complete the project. It came to The Image Flow's Lightroom expert Taralynn Lawton in August of 2012, who was tasked with painstakingly reproducing each image with a high-resolution digital camera and then retouching the files to its original glory.
Wish You Were Here contains 103 full-color photographs and 51 historic black and white photographs. There were about 70 images that Taralynn worked on, and each image required different work.

On some, she had to smooth out the dot texture, which was a result of the halftone printing process of the original images. On others, she had to repair tears and scratches or even replicate a lost part of the image.
"The work the Taralynn did was just terrific. There was one piece that we had from the cover of a Disneyland magazine. It was really a disaster and she patched up the color and the image so that you have no idea," says Bob.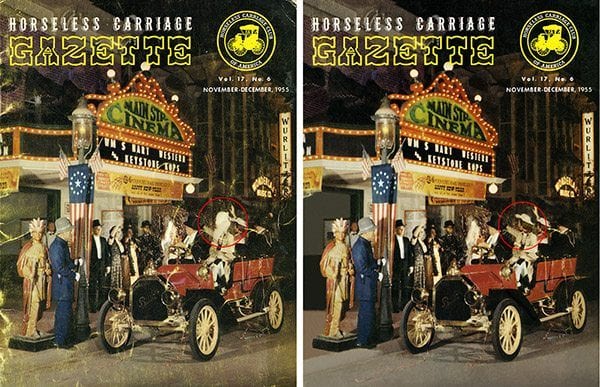 Mike was a close personal friend of Ansel Adams and Walt Disney. During his career, he made some 200 trips to Hawaii and is known for having shot the first color image of Hawaii for National Geographic. "All these stories and more—they're in the book," says Bob.
Wish You Were Here was published this spring by Ancash Press in Mill Valley and will be available on Amazon in August.
The Image Flow offers basic and advanced workshops and one-on-one instruction on retouching with Adobe Photoshop, as well as retouching and restoration photographic services.