Photographer Barbara Hazen on her long-term love affair with San Francisco's Grant Avenue.
The Image Flow sat down with Barbara Hazen to discuss street photography as she prepares her Grant Street Series for exhibition at Focus Gallery on Grant Avenue in North Beach.
What was the inspiration for your Grant Street Series?
I was taking the Photo Essentials 2 class at The Image Flow and wanted to work on my photojournalism skills. I chose the neighborhood because it was familiar to me. I spent a lot of time there when I was single and during culinary school. My husband and I met at Caffé Trieste and we got our wedding rings at Macchiarini jewelry store on Grant. It's been a long-term love affair of sorts. The street is actually called Grant Avenue but I call this series, Grant Street. Upper Grant Avenue has long been known as a bohemian hangout where artists and artisans gather.
The people seem to be a big focus of the photo essay. What was the goal of your series?
I feel that there's a difference between "street photography" where anyone with a good eye and a camera can take a picture of how the light hits a building or a person's face. In this photo essay, I was trying to take it one step further with a little bit of curiosity and some empathy of the situation. Who are these people? What do they do? What is their skill or art?  Why does this neighborhood collect, gather, talk, and support each other?
How do you build rapport with your subjects?
Don't be cagey. Smile! Be forthright and let them know what you're doing. Sit and take the time to talk with them, even if it's a just for a moment to get their name. Ask them who they are. Maybe buy them a cup of coffee. Ask them for the photo. Don't just capture the photo. Once you engage them, they are more open to you. Most people don't like you to take their photo without asking. The process entails a lot of time hanging out and talking to people.
How long did it take?
I worked on this series for four months. I visited the area two or three times a week for about one or two hours each visit, mostly at Caffé Trieste in the afternoon, but I  would also walk through the few blocks of the neighborhood.
Do you have a recommendation on equipment? Did you feel like a large camera was too intrusive?
I always had my hand-held camera on me and visible. They knew that I was the photographer. They knew that I was capable of taking a photo at any moment.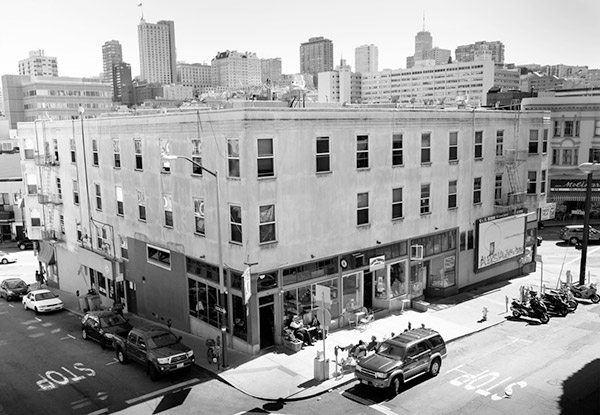 Did you ever feel uncomfortable or vulnerable?
No.
How did you pick the photos?
I am sure I have over 3,000 images. Every time I came home I would select my favorites from my day of shooting. Then I slowly narrowed it down. Stuart and Matt really helped me out enormously with this.
What were you looking for in the selection process?
Initially, I was drawn to straight portraiture where I would do really close up, cropped images. Stuart helped me back off and take a larger environmental image. He would ask "Where are they in the world? Are they in a cafe? Are they in their studio?" Stuart pushed me in that direction. I would then need to step back and look at the environment itself, the café, the street, and the building. It puts the subjects in a place.
Are you printing these in any particular way?
I have left the printing and paper selection (Hahnemuhle PhotoRag Pear) to Stuart and Matt and they have done a beautiful job. I turned the series into black and white. They help me along with the editing process, improving images, and doing final adjustments.
What size prints are you printing for the exhibition?
The camera I was using influenced the size of some of the prints. At the start, I had a Canon 20D and the images would get pixilated at larger sizes. Now I have a 5D Mark 2 and it has a full-screen sensor so the images can get larger. As I prepared the exhibit, we mapped out the gallery they were going in and decided what was appropriate. They vary from 11×17 to 20×24.
What are your words of wisdom to emerging street photographers?
To do "street" photography, one needs to have a heightened awareness of their surroundings—to notice and capture (NOT steal!) what most people walk right by, i.e., the light falling on a subject, a reflection, a person's face.
Are there any artists that you've been influenced by?
Mary Ellen Mark, Jacob Riis, Henri Cartier-Bresson, Tina Modotti, Lewis Hine, Dorthea
Lang, Karsh, Edward Weston, Diane Arbus, and Richard Avedon.
Here are 10 Street Photography Tips from Barbara Hazan
Always look determined
Have your camera ready
Be curious and empathetic
Engage with subject
Take a notepad & pencil and get people's names
Be open minded
Do not 'expect' to find something or someone
Present a business card
Be ready to be turned down
Carry a whistle, just in case!