Travel photographer Jeff Zaruba offers five tips for turning the ordinary into extraordinary.
Ever get up at the crack of dawn and haul out of the hotel/condo/AirBnb with a cup of coffee and camera and haul down to a beautiful beach or center of a quaint Eastern European city ready to take the perfect sunrise photography, only to be overcome with the feeling that it's already been done? Don't worry—us too!
Fortunately, we've got Jeff Zaruba to help us out. Jeff has been traveling the world as a tourism, landscape, and fine art photographer for more than 30 years. Here, he offers five photography tips for how to take an extraordinary image in a place that may seem ordinary.
1. Turn around
When everyone is looking one way, for example at a historic landmark or iconic landscape, turn the opposite way and look for something different. "Haleakala is an amazing site to see on Maui. Almost seven miles across and two miles wide, the crater is dotted with numerous volcanic features including large cinder cones, and being almost 10,00 feet above sea level Haleakala is often above the clouds, which allows for some very dramatic photos like the one above," says Jeff.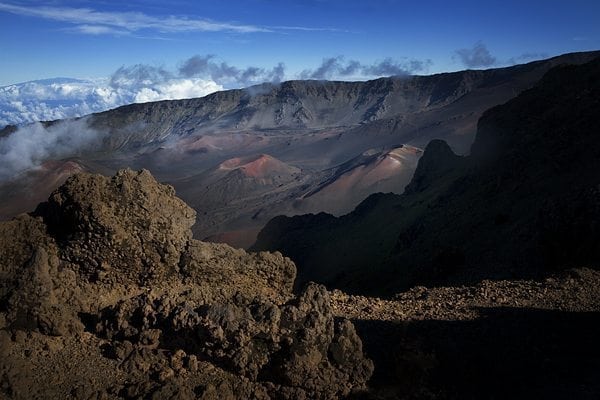 2. Break the rules
The rules of composition, exposure, and shutter speed aren't really rules, they're more like recommendations—and you don't have to take them.
3. Play on the edges of light
A photograph may be made of light, but more light isn't always better. Experiment using areas of light and shadow to create interesting textures and depth, or using indirect light to give an unusual mood to a photograph.
4 .Keep shooting after the sun goes down (or before it comes up)
Sunrise and sunset are commonly referred to the "golden hours" of photography, but the hours before and after can yield some incredible photographs (see point 3 on playing on the edges of light!).
5. Shoot until you find the perfect shot
Instead of waiting to get out your camera until you find the perfect shot, warm up your vision by shooting almost anything you see. Just like a runner warms up before a race, as a photographer you sometimes need to gently awaken your vision before you can really start to see.
Jeff is a regular workshop instructor at The Image Flow. He is currently teaching Conceptual Photography: Visions and Dreams and will join Stuart Schwartz to teach Explore Photography in Umbria, Italy, July 27 – August 7, 2017. See more of Jeff's work on his website.