Conceptual photographer Greta Carlstrom discusses her creative process, stylistic influences, and her transition into fine art photography.
Greta Carlstrom first came to The Image Flow for The Photo Challenge Workshop. As a fine art conceptual photographer, Greta creates emotional images that reflect the influences of her Scandinavian background. This workshop gave her the opportunity, support, and direction to visually explore her interest in human emotional expressions, the masks we wear, and lonely spaces. BEYOND, her exhibition currently hanging at The Image Flow, developed from images created during this workshop.
We asked Greta a few questions about her work: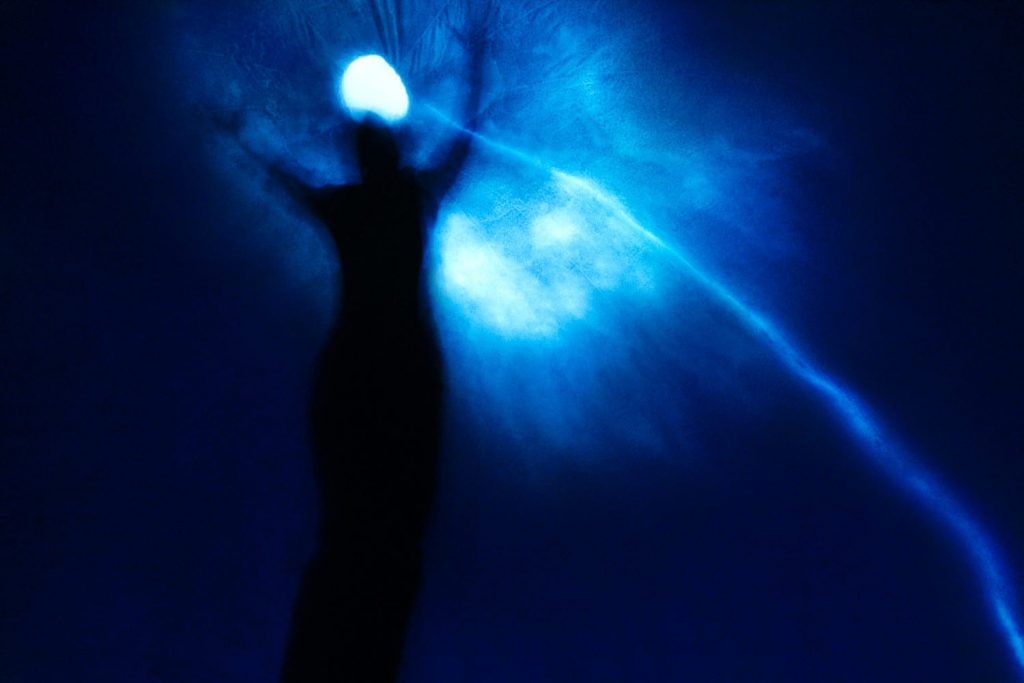 What is your process from visualization to creating a photograph?
My images reveal themselves while sitting quietly at the beach, or in open spaces that embody beauty and soul. Working in the early morning is my preference, when new ideas flourish, engaging both spirit and emotions. My curiosity frames a moment in time, developing images from dreams that are illustrated in a mysterious fashion. A deeper mood is held within the essence of each image, bringing tension as I search for pictures that transcend my own identity.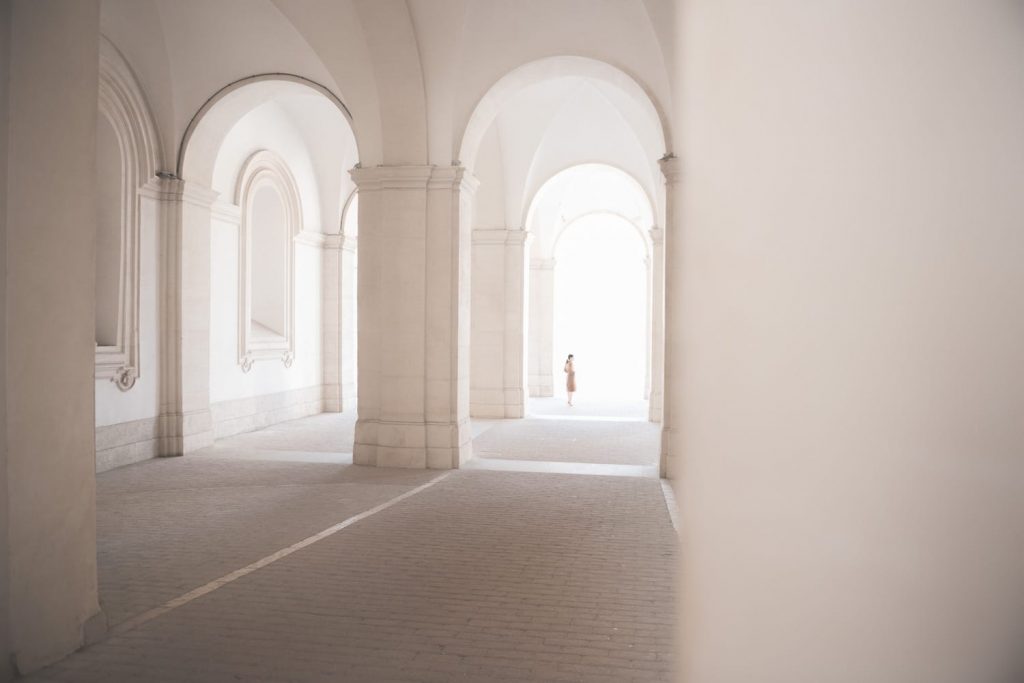 How did you begin in photography?
Image-making has always been in my background. At an early age, I was influenced by my father developing film in the darkroom, and from there, I quickly declared my interest in photography. Studying fine art and photography in college, I began spending weekends photographing landscapes and nature. My image visualization skills expanded in my career as an advertising art director on Madison Avenue. Challenged to create conceptual themes for clients, I was lucky and photographed a few commercial advertising campaigns. In the last 2 years, I've been exploring new bodies of work that are expressive, taking me in a new direction as a fine art photographer.
How would you describe your style and inspiration?
There is a single thread linking all of my influences that is then released into my style of photography. This process excites me, as unexpected ideas push me forward into new realms. My style is minimal, with visual intensity and deep emotional resonance. After distilling a thought into a simple composition, it is layered with mysterious undertones. Important moments in my life and inspiration from the universe act as my guides.
My Scandinavian background and the films of Bergman and Lars Von Trier have been powerful influences, contributing to how intently I observe the world. As I create subtle glances in my images, it brings forth radiance from below the surface. In a single moment, I invite the viewer to look inward to their own individual depth which connects us to the universal self.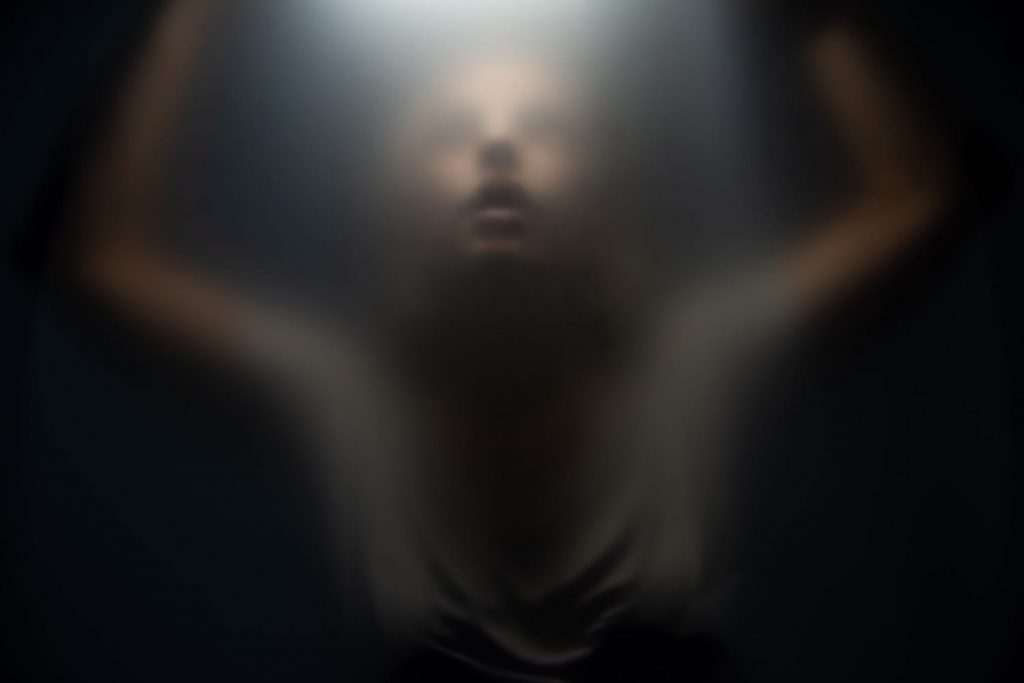 What topics interest you? What are the central themes in your work right now?
The themes that interest me are fairly wide, ranging from environmental portraiture to ethereal stories. My images have evolved over the years while making self-portraits in unusual landscapes. I've been focusing on individual identity and blurring the lines between real and magical. Looking through the eyes of a muse into the edges of ourselves opens us up to moments of wonder.
What does image making mean to you?
I'm an explorer, an urban wanderer, and a collector of ideas from art to poetry to literature. I try to trust my instincts and allow myself to become lost in a natural flow of thoughts that turn into deeper expressions. All forms of inspiration affect my work. A few years ago I began working on self-portraits and identity. My fascination with masks and illusion, where I try to reveal what's behind the mask, are ongoing themes I'm still exploring.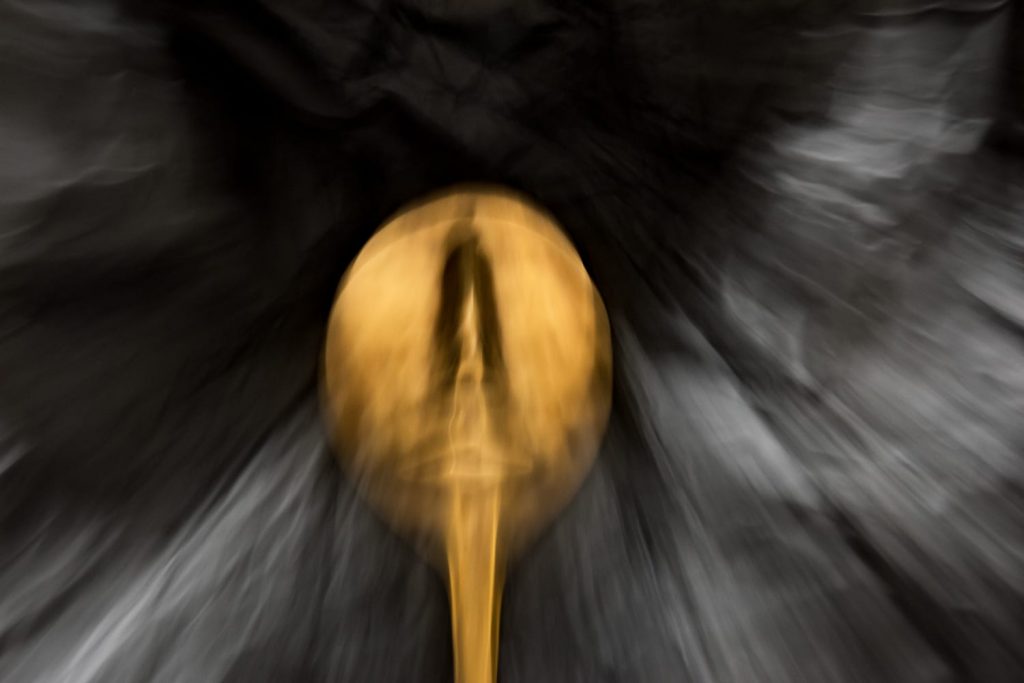 Who are your primary influences?
Ingmar Bergman, Helmut Newton, and Irving Penn. They all have a strong sense of composition and a distinct style. They all present striking visuals with a degree of gravitas.
When and how did BEYOND get created?
The images in BEYOND capture important moments in my photographic journey. This series was created over the last year and a half. The inspiration originated from a self-portrait series taken in the Swedish landscape, where icy blue scenes capture a form nestled into an imagined
magical world. The new series BEYOND expanded into the exhibition currently showing at The Image Flow. While photographing for The Image Flow's Photo Challenge workshop, I began exploring human emotional expressions and moments caught within lonely spaces. Experimenting with various lighting effects, I wanted to create mysterious and moody scenes with a penetrating gaze.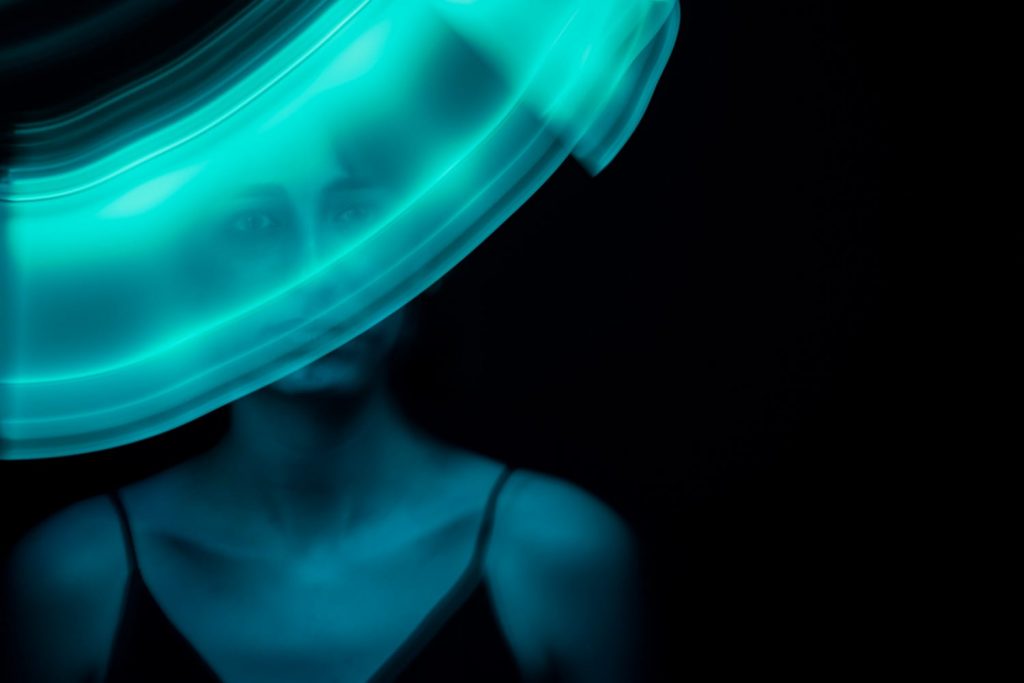 What was the process of creating the show like for you? Prints being made, framing, curating?
Creating the exhibition was a very good experience. I enjoyed working on the image sequencing with the team at The Image Flow. There were challenges while selecting the perfect frame to showcase the work in a delicate manner. What I selected was a small white frame profile that would let the image shine; I was very pleased with the appearance as they were installed on the gallery walls. The paper selection of Epson Legacy Fibre premium quality paper suits the images very well. All images were printed by the staff at The Image Flow, who did a very professional job.
Greta's exhibition BEYOND will be on view at The Image Flow through December 21.
The Image Flow is hosting an Artist's Dinner for Greta on November 3. Guests will have the opportunity to hear her speak about her work in a small setting and engage her with your questions. The Artist's Dinners at The Image Flow are relaxed evenings, where people gather over good food and wine to talk about all sorts of things – including photography! Space is limited for this intimate evening event, so be sure to reserve your space soon.