The use of the camera has always been for me a tool of investigation, a reason to travel, to not mind my own business, and often to get into trouble.

Danny Lyon, from bleakbeauty.com 2007
The World Is Not My Home: Photographs by Danny Lyon is at the de Young though January 27. This exhibit sparingly covers his work from the early '60 civil rights movement with the SNCC (Students Nonviolent Coordinating Committee) the Occupy Movement protests of 2011.
Danny Lyon's is considered one of the more influential journalists of the 1960s. He demonstrated a new style of journalism, a self-proclaimed style of advocacy journalism, in which he is personally involved with his subject rather than objectively removed. He immersed himself in the world of his subjects, usually the under class, unwanted and unseen.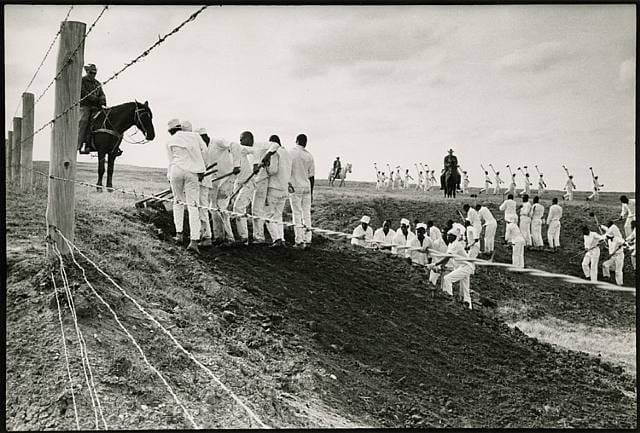 Lyon's probably is best know for his work inside Texas prisons in '67 and '68. He portrayed incarceration honestly and brutally. He befriended an inmate, Billy McCune, and developed a life long friendship and artistic collaboration . A conversation with the Dead, Holt publishing, 1971, is his book of photographs from this series.
The exhibit shows a few images from many of his projects;
Texas Correctional Facilities
Chicago Outlaw Motorcycle Club
Civil rights protests with the SNCC,
Street life in Chicago and The Bronx
Demolishing of lower Manhattan in the 1960s
Shanxi Provence in China
The exhibit also shows a number of Lyon's collages created from color and black and white photos, and pieces of contact sheets. These are personal studies rather than political statements. The curatorial highlight of the exhibit is the inclusion of personal albums in a display case. These are sketchpads filled with polaroids of family and friends with his notes scribbled in between. These so clearly demonstrate his genuine connection with people whether they are family, friends, inmates, prostitutes, or protesters.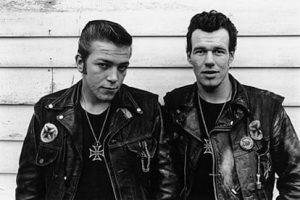 Lyons has been awarded a Guggenheim Foundation Fellowship for both photography and film ('69 & '79). Says Lyon, "Every project that I choose, either in publishing or film had an ethical and ideological motive that was built into the project, and that mind set continues for me to this day".
This exhibit is a good review of the nearly 5 decades of Lyon's work. But you may want to dig a little deeper to get a broader understanding of Lyons and his impressive body of work. Here are some quotes and links to start with.
The pictures do not ask you to "help" these people, but something much more difficult; to be briefly, intensely aware of their existence, an existence as real and significant as your own.
Reflecting upon his Uptown, Chicago series
The sign at the entrance to my gym locker room says, "no cell phones please, cell phones are cameras." They are not. A camera is a Nikon or a Leica or Rollieflex ….. From bleakbeauty.com
"It's a very weird thing being a photographer." Lyons, from Randy Kennedy's NY Times article Stubbornly Practicing His Principles of Photography
Worth a look:
Now On Display:
The World Is Not My Home: Photographs by Danny
More info at deyoung.famsf.org
Sept 29 2012 – Jan 27, 2013
The exhibition is organized by the Menil Collection, Houston. Its presentation in San Francisco is generously supported by the Pritzker Fund for Photography.
This post is written by Barbara Bowman